Google Maps Scraper
Finding new leads through Google Maps has never been easier with our scraper.
Reach Millions Through Google Maps
Millions of businesses to be found on Google Maps around the world and scraped within seconds.
Up-to-date
Get ready to stop your efforts with outdated databases as business information on Google Maps are up-to-date.
How else could customers reachout to them, am I right?
Business Data
Gather information such as address, location, phone, email, rating, social media links (presence), marketing pixels and more.
HOW DOES THE GOOGLE MAPS SCRAPER WORK?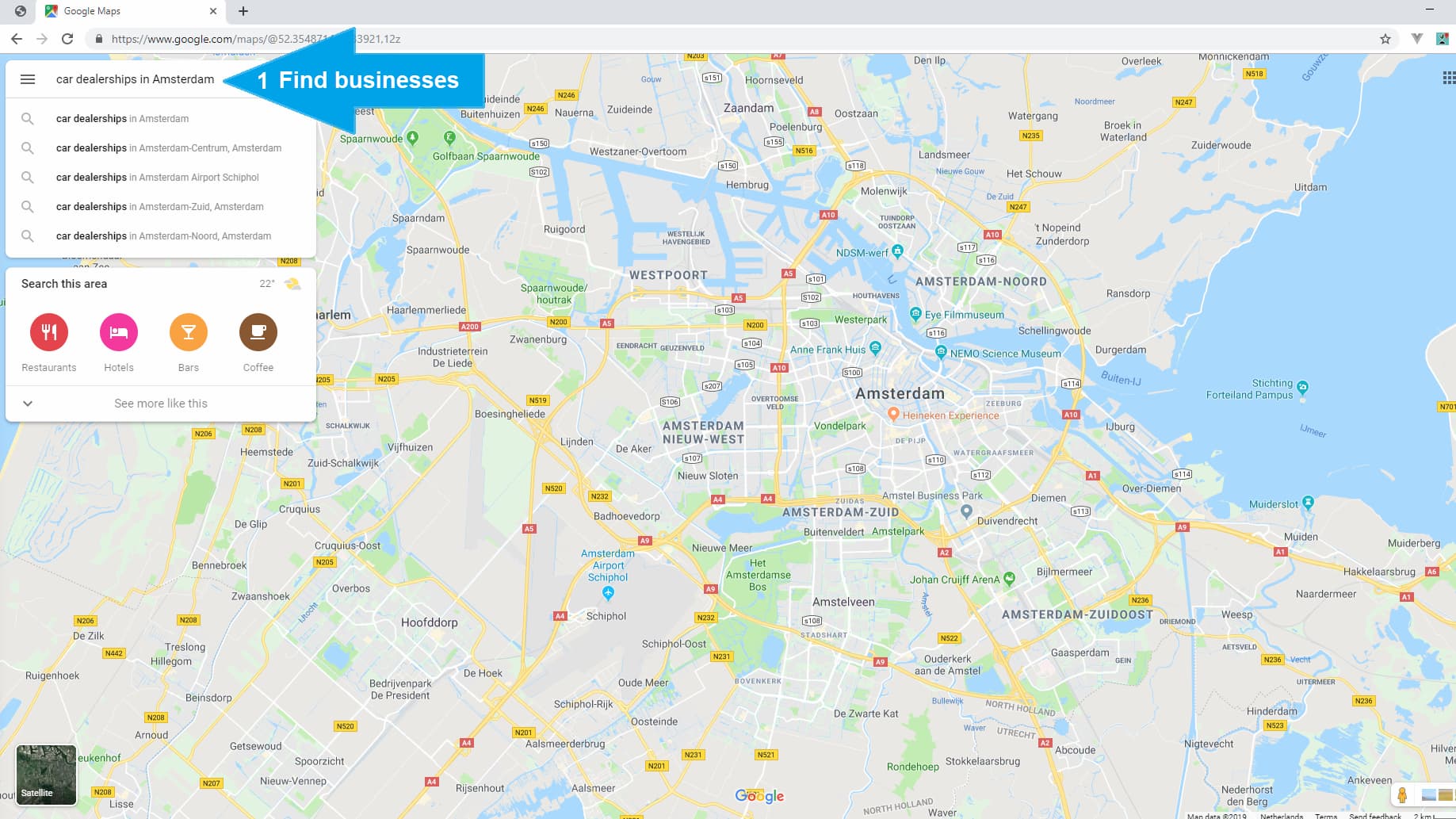 1 – Let's get started
First of all download extension and continue to Google Maps, then always open up the extension first and make sure there are no prior results saved, so you start with a clean list. Now you can find any businesses through the Google Maps by its search bar (like Restaurants in Amsterdam)
Why scrape Google Maps? Lets say you want a local restaurant to hire you, you could show them a list of local food distributors they could use to cut costs. (Yeah, there are other possibilities with this.) Or as an agency you will be able to pull up a list of potential clients for your clients to show.
2 – Pull in results
Press the bottom navigation icon > (the blue arrow shown in the screenshot on the right) to move through the results from Google Maps until there are none.
Note: Do not click too fast for the next 20 results – Wait for the results on the left to load before clicking again on the > icon.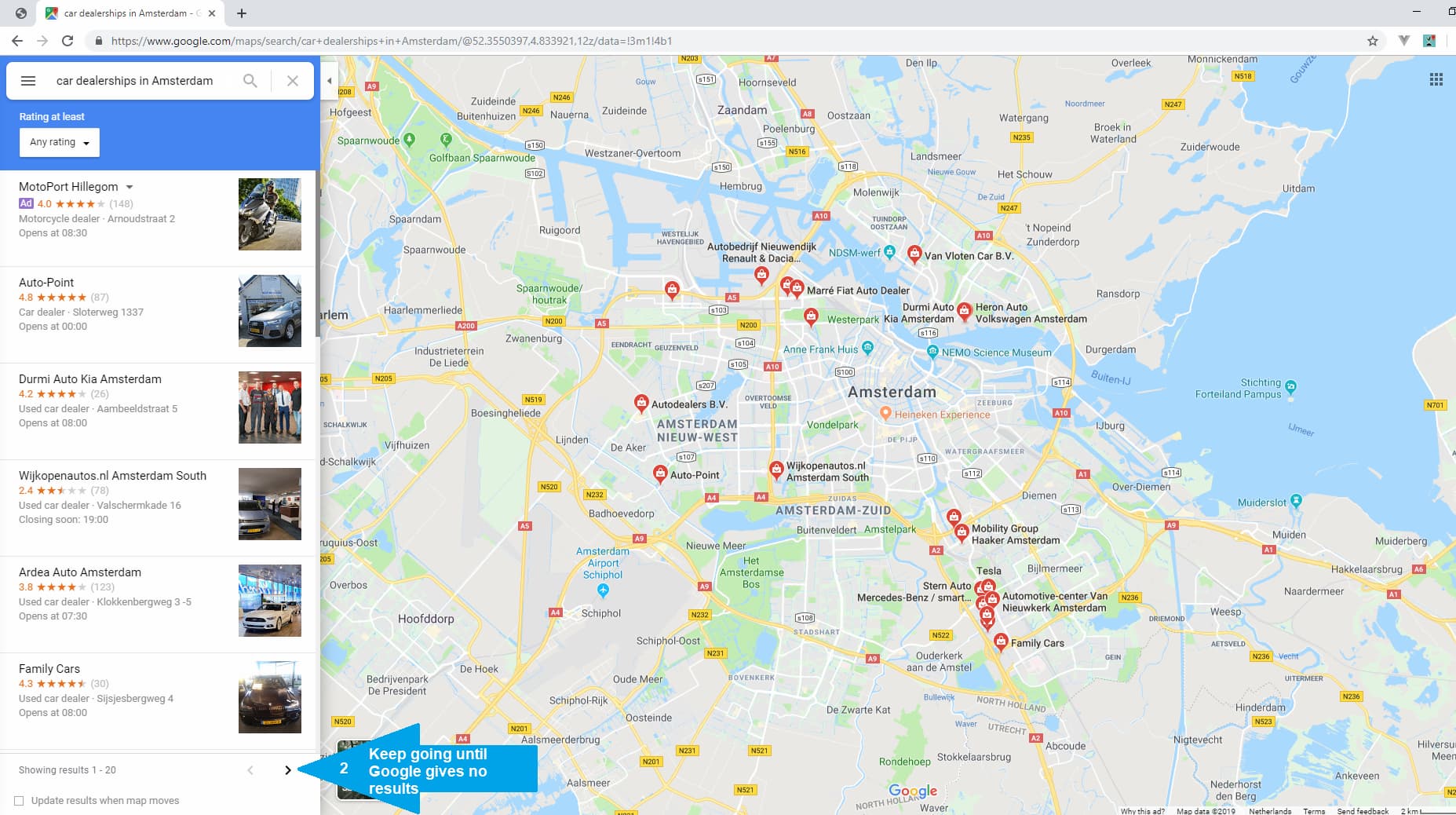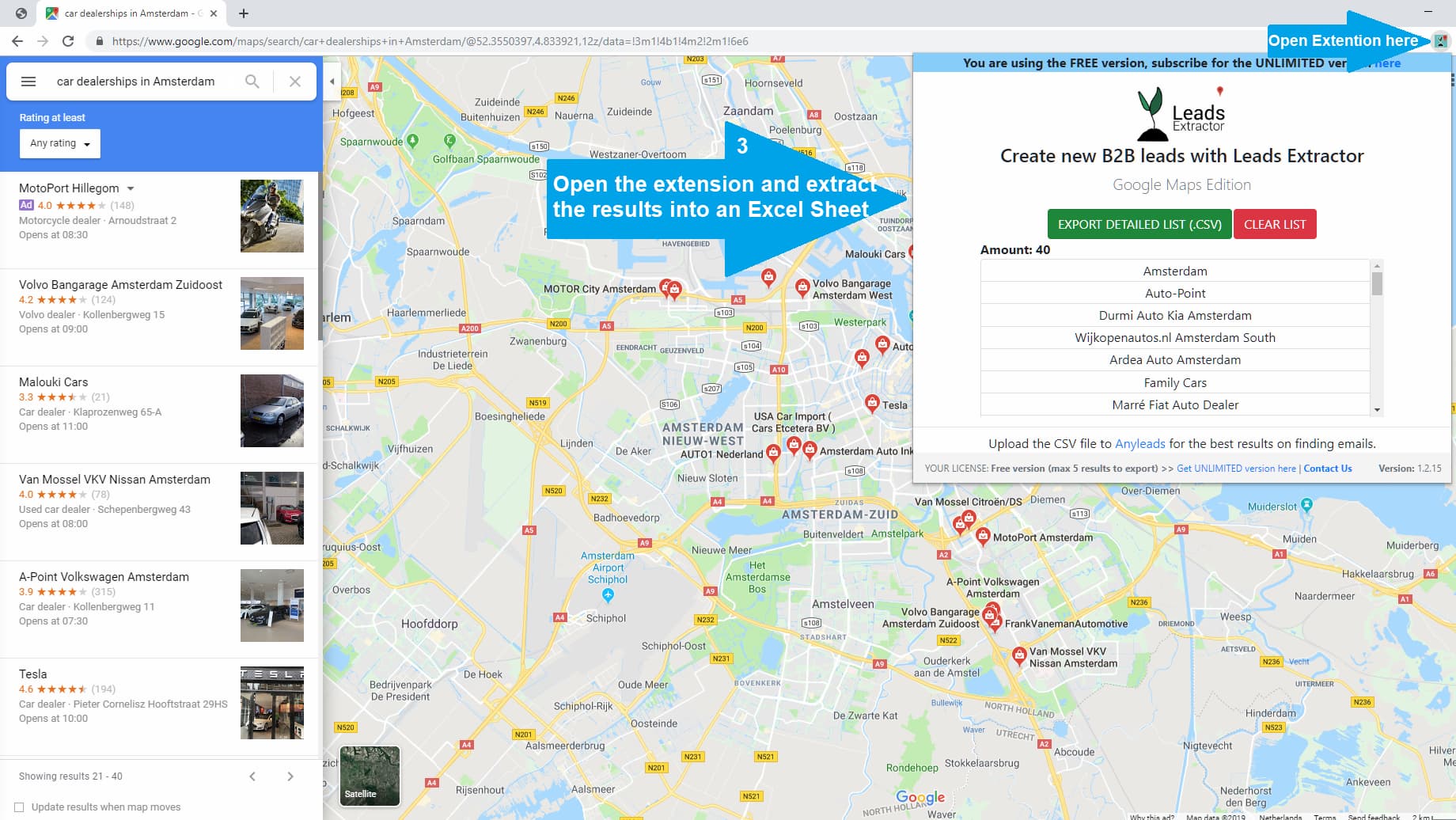 3 – Download results
Lastly open up the extension in the top-right corner of the Chrome Browser and press the green EXTRACT DETAILED LIST button. When pressed, simply press the appearing (if process hasn't finished yet) DOWNLOAD button to retrieve the results into an excel spreadsheet format.
Note: Press the red "Clear List" button if you want to reset for a fresh start
DISCLAIMER: All data collected by the extractor will not be stored locally on the computer where you install the extractor extension. The extractor will NOT attempt to offload, distribute, broadcast, sell or in any way share collected data. We designed Leads Extractor with the privacy of the user's data in mind.
Checkout our Privacy Policy here
What does one of our 3000+ daily users say?
"I help my business clients with lead generation and it's fantastic to be able to quickly find all of the Google Maps listings in an area and then export them with the push of a button. "
Try Google Maps Scraper today