GMaps versus Google Maps Scraper Leads Extractor
A Google Maps scraper is a tool that extracts information from Google Maps, such as business names, addresses, phone numbers, ratings, reviews, and much more.
GMaps Scraper
Pros:
1. Small extension that allows you to scrape multiple information points of businesses, including photos/reviews.
2. A browser extension, so you can do it within your browser.
3. Useful for small queries.
Cons:
1. Does not remove duplicates.
2. Occasionally stops working, due new Google Maps updates.
3. Limited results, you have to pay a monthly fee for a limited amount of results.
Leads Extractor
Pros:
1. Easy to use browser extension with a simple design.
2. Unlimited results for a monthly fee.
3. Useful for large queries.
4. Finds more emails (on average)
5. Does not require an account to tryout the extension.
Cons:
1. Does not contain Google Maps reviews of users.
2. Must use the browser
How Leads Extractor works? Watch and learn (1 minute video) below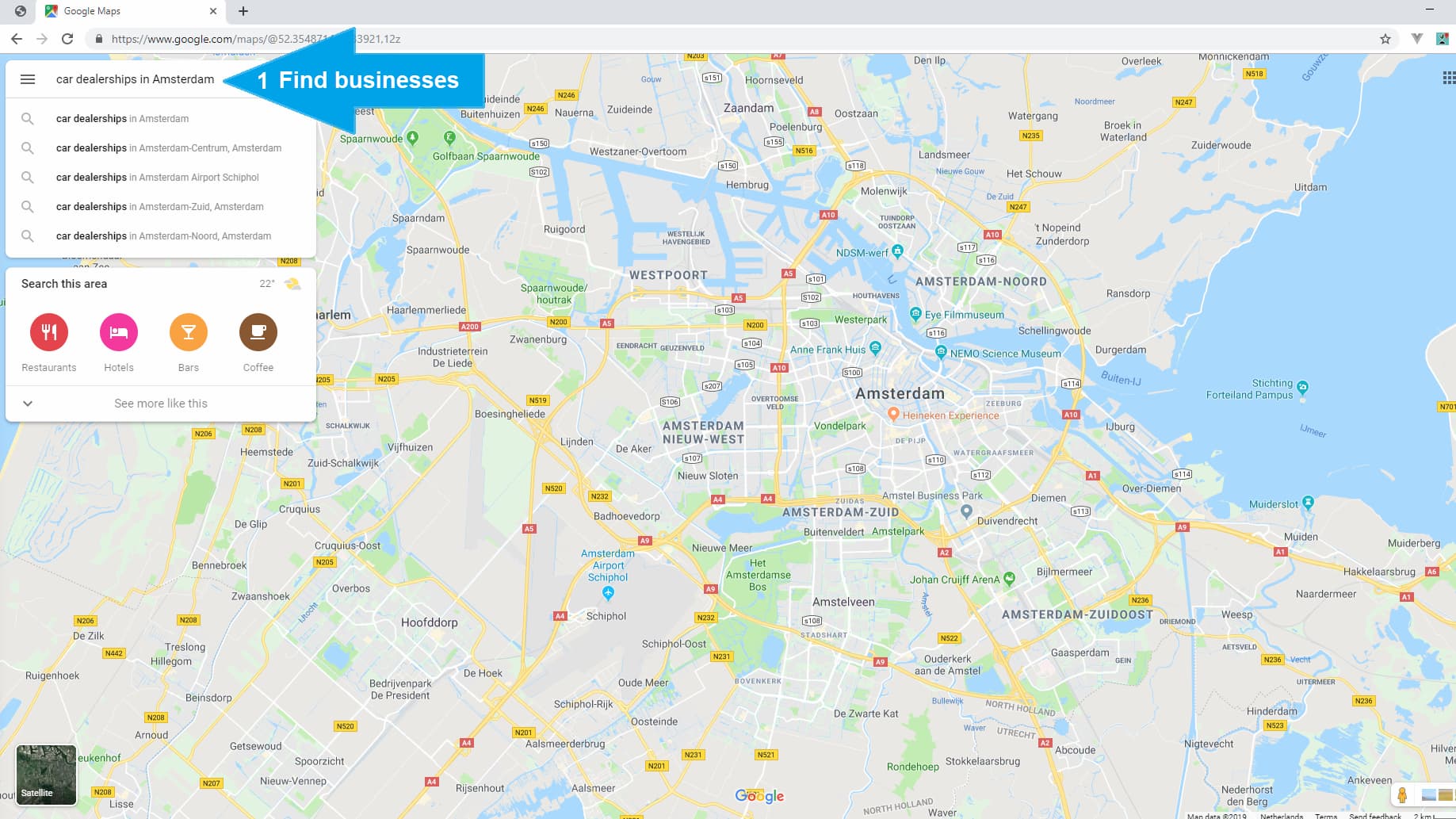 1 – Let's get started
Always open up the extension first (for verification purposes) and then perform a search like you normally do to find any businesses from any place.
PS: Also in Google Maps™, you can create a list of places of anything you like (link). We are also capable of enriching that list, even if you did not make the list yourself.
The extension enrich the business listings automatically in the background – ready to be downloaded when you open up the extension again. During this process, the extension window does not require to be opened.

2 – Pull in (more) results
Keep pressing the bottom navigation icon ( > ) every time to get results from Google Maps like you normally do, and keep doing this till Google Maps™ no longer returns results before exporting (the last step).
Tip: Enable 'update results when map moves' at the bottom left to automatically retrieve more results from Google Maps. However Google Maps™ doesn't filter on what you received before, but we do check for duplicates and remove those!
Did you know you can use all data retrieved to create highly personal emails to send? Like mention their Facebook or LinkedIn page and much more with all of the data points being scraped!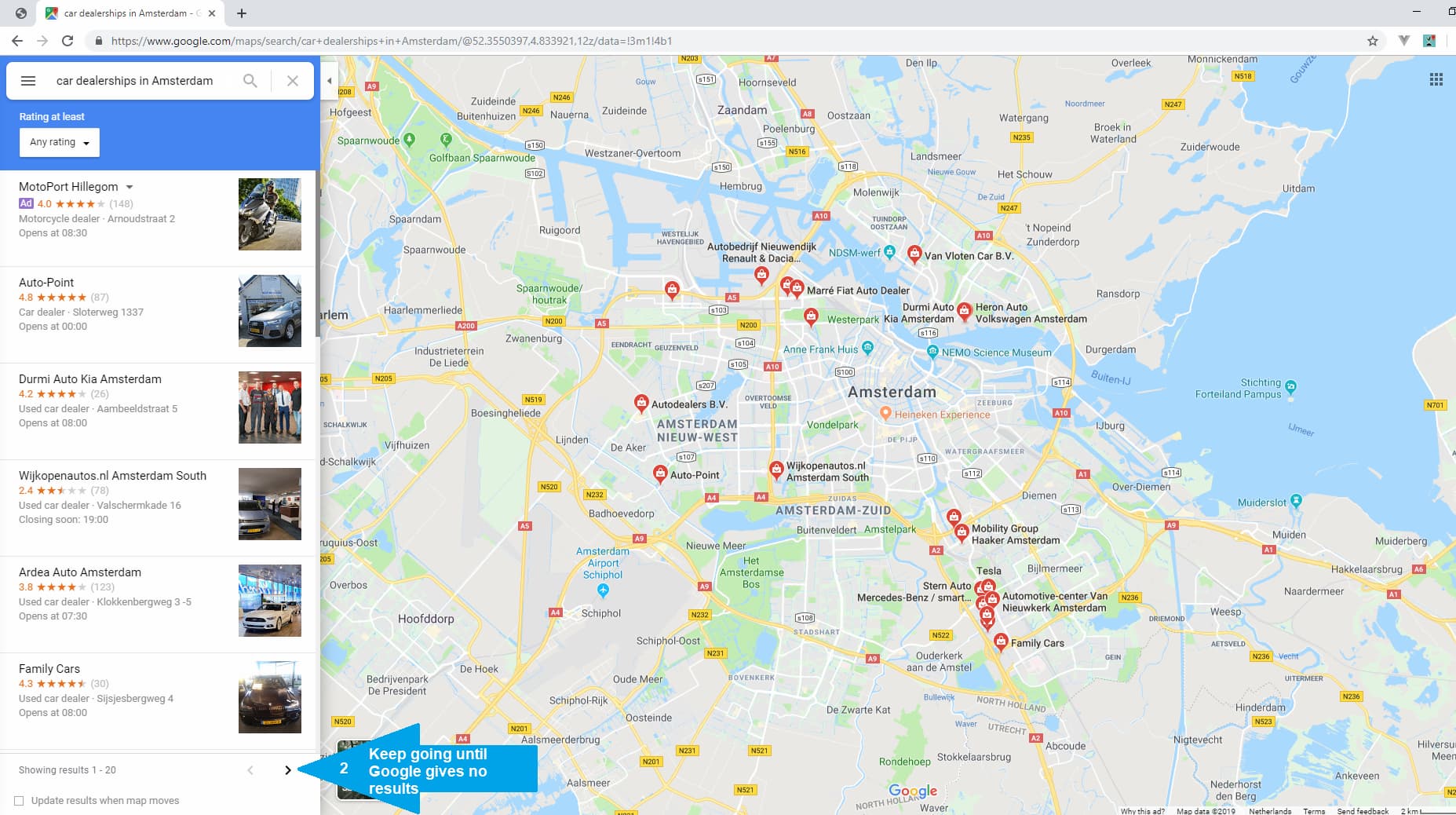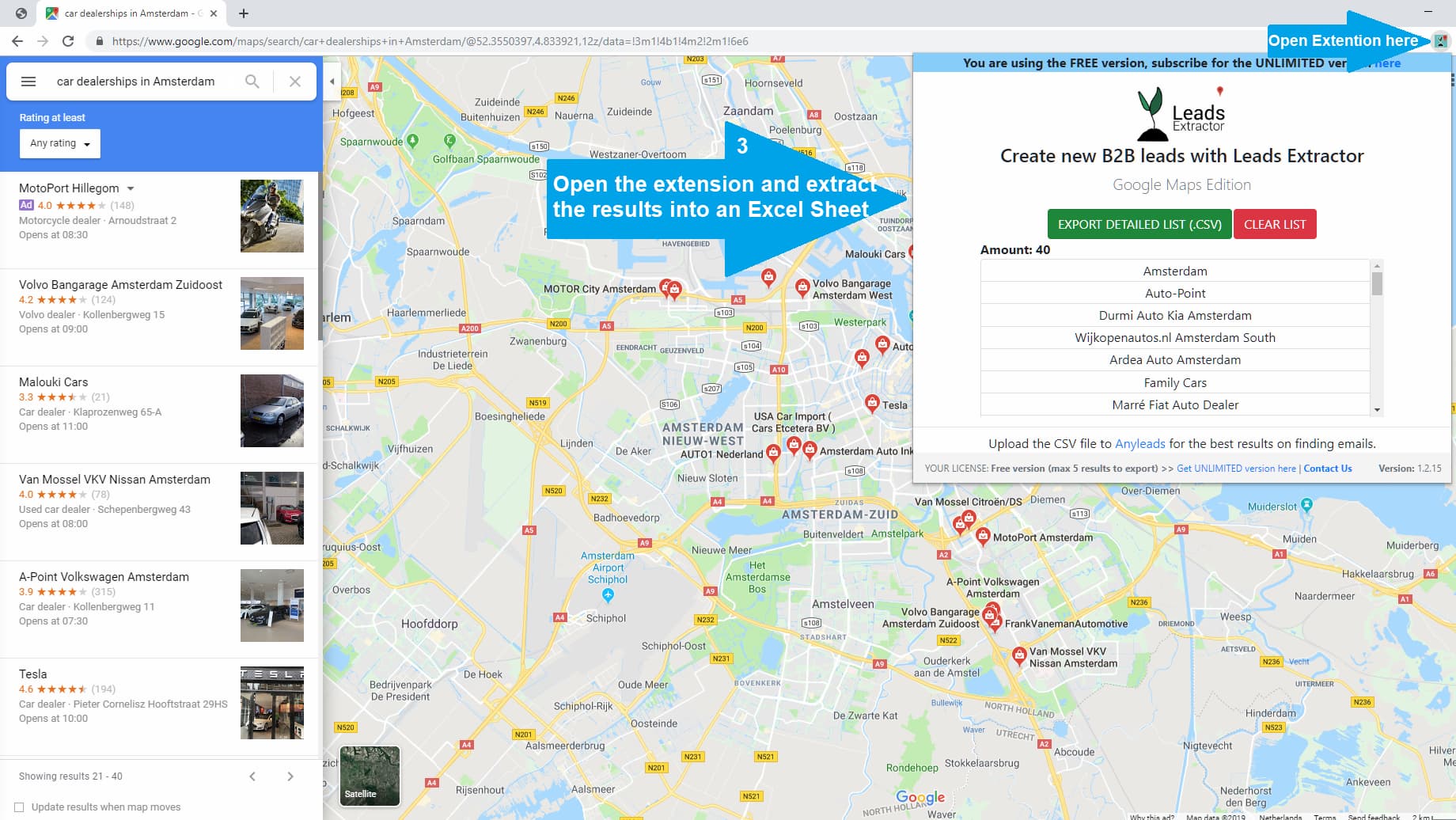 3 – Download results
Lastly open up the extension and press the green EXTRACT DETAILED LIST button, and eventually appearing (if process hasn't finished yet) DOWNLOAD button to retrieve the results into an CSV (comma separated values) format.
The extension will keep adding results to the last existing list of results until reset by pressing the red CLEAR LIST button.

Ran into any issues? See FAQ on our contact page or contact us.
DISCLAIMER: All data collected by the extractor will not be stored locally on the computer where you install the extractor extension. The extractor will NOT attempt to offload, distribute, broadcast, sell or in any way share collected data. We designed Leads Extractor with the privacy of the user's data in mind.
Helping our customers grow & succeed

Here's what some of our 12,459+ daily users say about us.
Mega useful! I save a lot of searching time!
I help my business clients with lead generation and it's fantastic to be able to quickly find all of the Google Maps listings in an area and then export them with the push of a button.
THIS IS GOLD!!!
I just purchased the unlimited Version and this is such a time save and money maker!
I checked out so many tools, but this thing is SO QUICK AND EASY to use!
It is a Must-Have for Lead Generation.
Super useful tool and the guys in support added a new feature that I enquired about within days.
A colleague told me about this extension and I love it! It's so easy to use and straight forward but gets you the results.
After a few hiccups to get the paid version of the extension functional with the help of their tech support team I am very happy with the product. I highly recommend it.
Try Google Maps Scraper Today