Ready to get unlimited leads?
Get the power of a marketeer, without paying their $100 hourly rate.
Google Maps
Unlimited Plan
Unlimited leads
NO Google API required

Normally $45 / month

Limited stock, order quickly
HOW DOES THE GOOGLE MAPS SCRAPER WORK?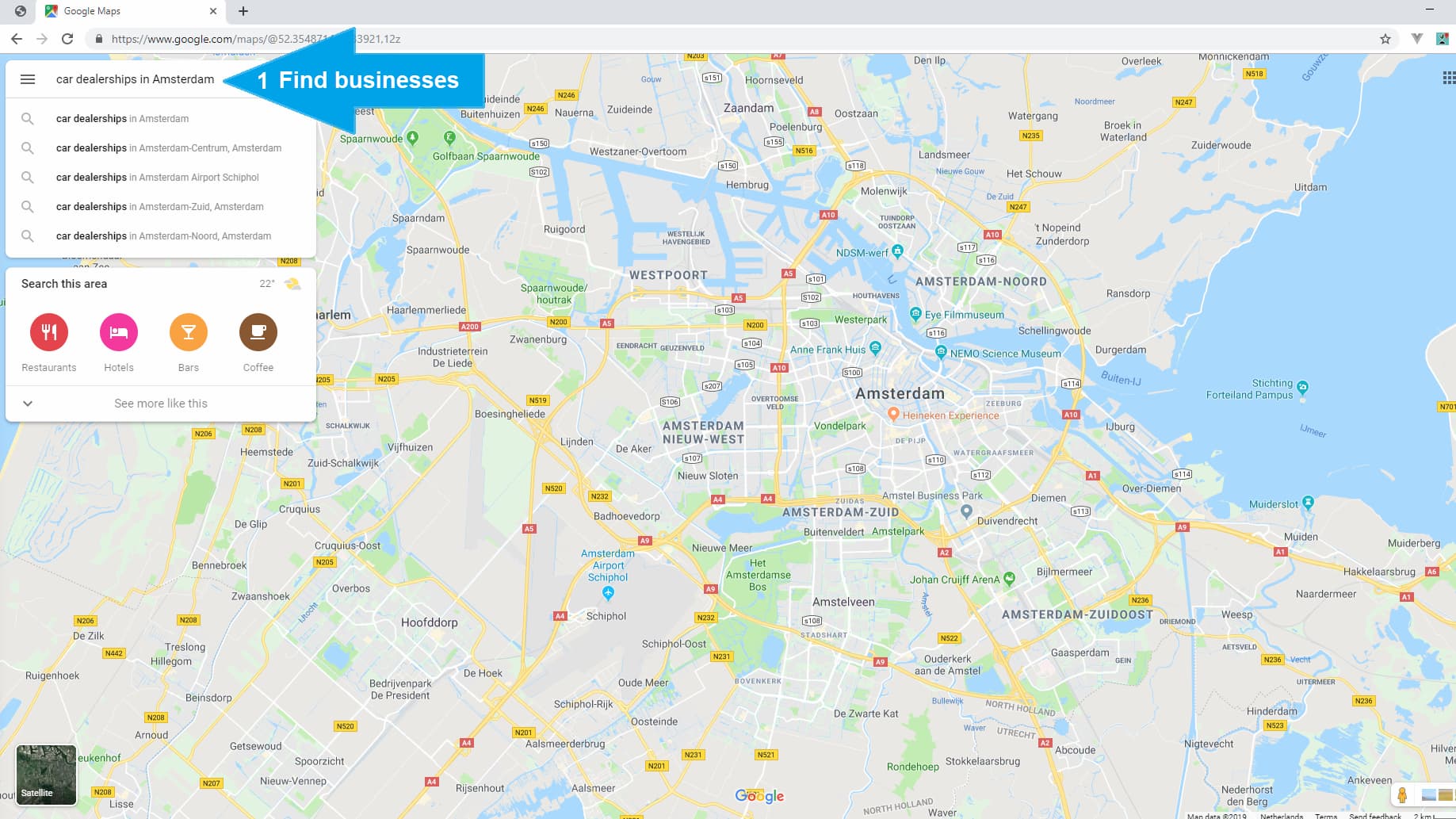 1 – Let's get started
Open up the extension first, then navigate to Google Maps and perform a search like you normally do with Google Maps (see the blue arrow in the screenshot example: Car Dealerships in Amsterdam) to find any businesses from any place.
Note: The business listings will be automatically scraped in the background – during this process you can close the extension. You only need to open the extension when performing a completely new search
Why scrape Google Maps? Lets say you want a local restaurant to hire you, you could show them a list of local food distributors they could use to cut costs. (Yeah, there are other possibilities with this.) Or as an agency you will be able to pull up a list of potential clients for your clients to show.
2 – Pull in results
Press the bottom navigation icon > (see the blue arrow in the right screenshot) to pull more (often 20) results from Google Maps. Please do not click too fast – wait for the results to appear first before clicking again.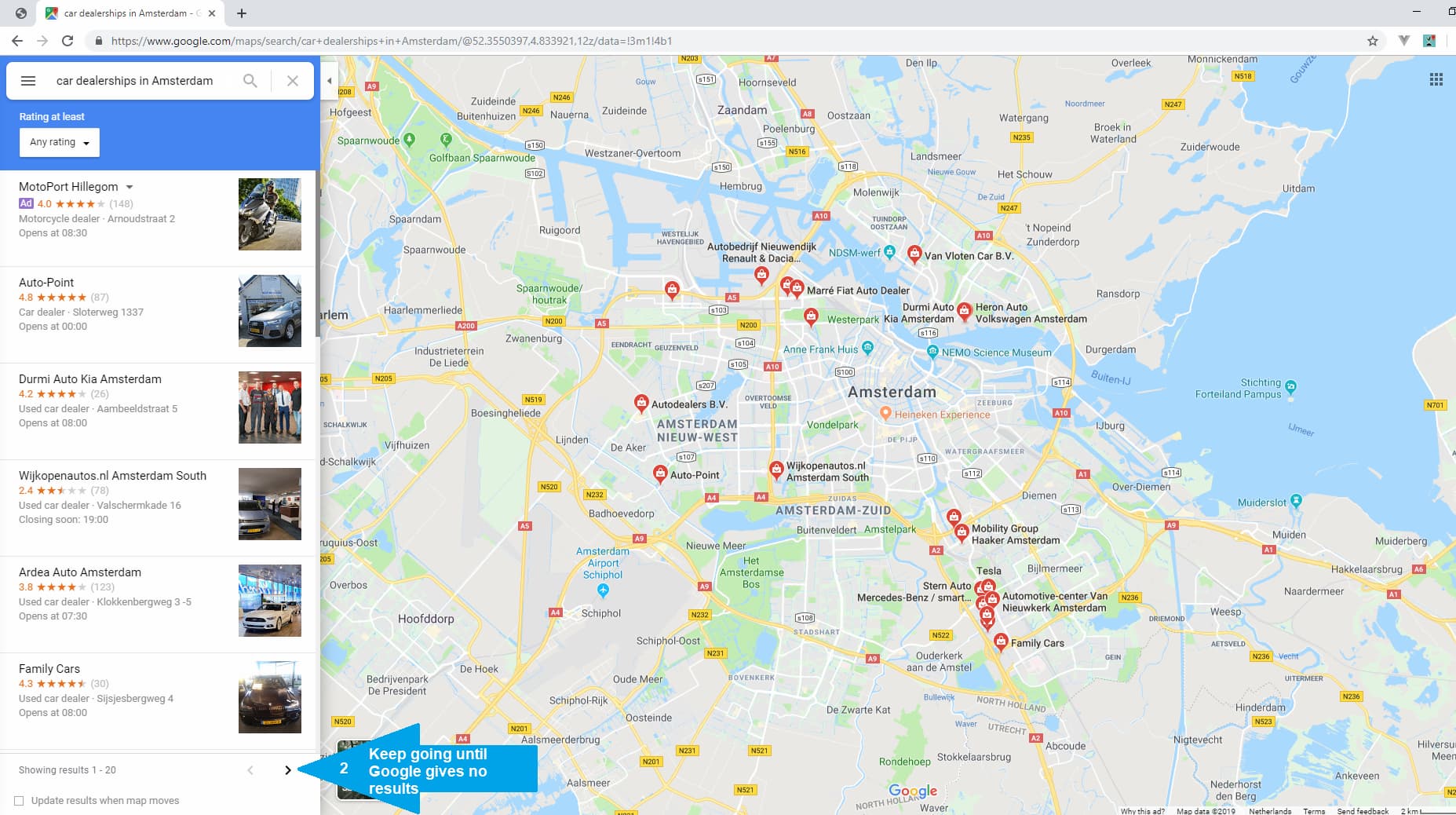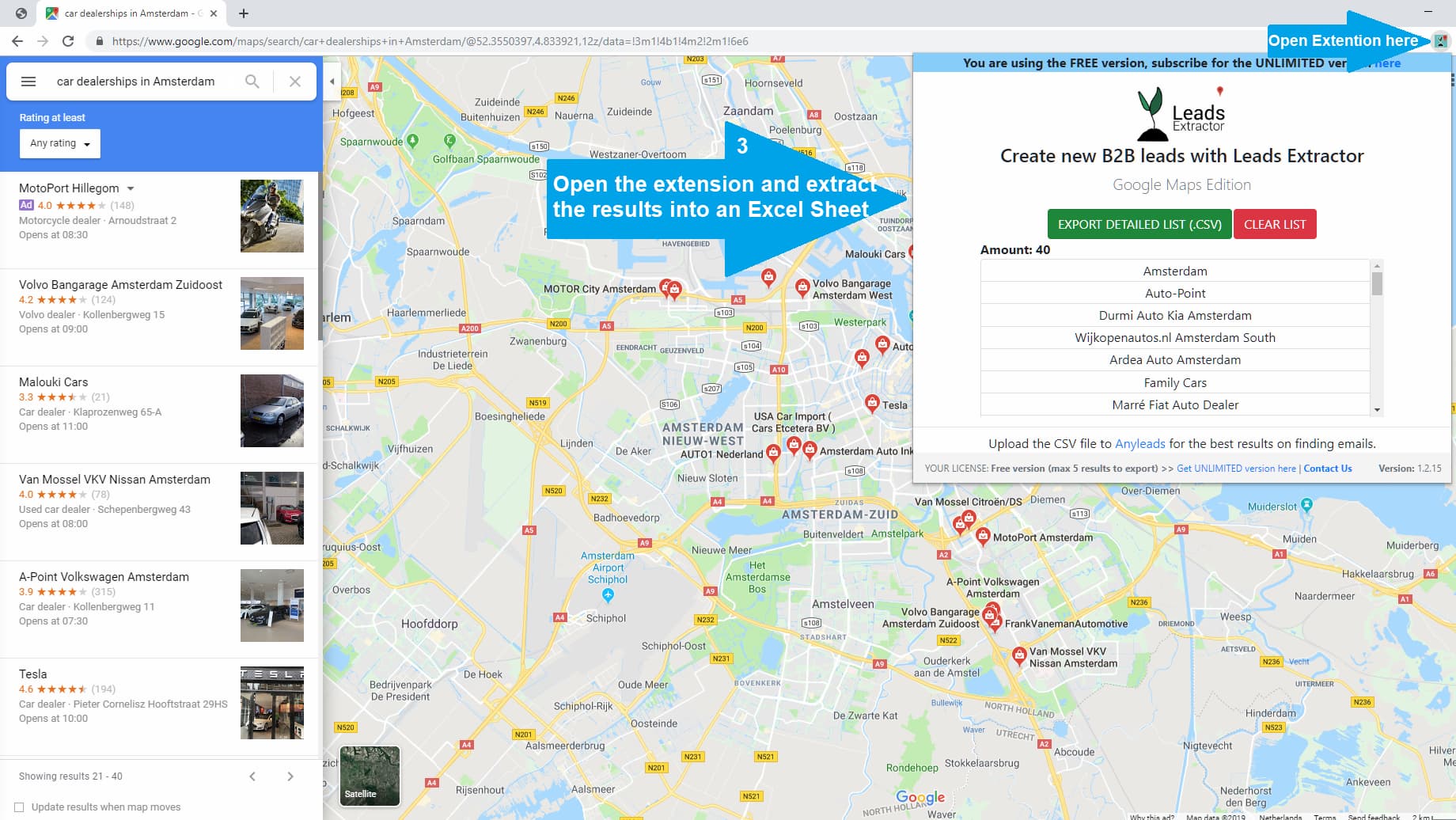 3 – Download results
Lastly open up the extension in the top-right corner of the Chrome Browser and press the green EXTRACT DETAILED LIST button. When pressed, simply press the appearing (if process hasn't finished yet) DOWNLOAD button to retrieve the results into an CSV (comma separated values) format.
Note: Press the red "Clear List" button to reset the data for a new search. As the extension will keep adding results to the existing list of data until reset.
Too long; didn't read?
All you have to do is use Google Maps like you normally do, while the extension scrapes the business listings automatically in the background – ready to be downloaded when you open up the extension.
Helping our customers grow & succeed

Here's what some of our 10,000+ daily users say about us.
Mega useful! I save a lot of searching time!
I help my business clients with lead generation and it's fantastic to be able to quickly find all of the Google Maps listings in an area and then export them with the push of a button.
THIS IS GOLD!!!
I just purchased the unlimited Version and this is such a time save and money maker!
I checked out so many tools, but this thing is SO QUICK AND EASY to use!
It is a Must-Have for Lead Generation.
Super useful tool and the guys in support added a new feature that I enquired about within days.
A colleague told me about this extension and I love it! It's so easy to use and straight forward but gets you the results.
After a few hiccups to get the paid version of the extension functional with the help of their tech support team I am very happy with the product. I highly recommend it.